The Catherine McAuley Education & Research Centre
The Catherine McAuley Education & Research Centre was opened in 2004 as a partnership between UCD and the Mater Hospital. The centre brings together academic excellence and clinical expertise in an on-campus facility. The development occupies Georgian houses that were donated by the Sisters of Mercy and is equipped with lecture theatres, small group tutorial rooms, clinical skills laboratory and a computer assisted learning laboratory. Facilities at the Catherine McAuley Centre are also broadly used across postgraduate specialties including primary care and can be booked by contacting the Catherine McAuley Centre on the contact details above.
The centre also supports the provision of undergraduate and postgraduate medical education courses.
---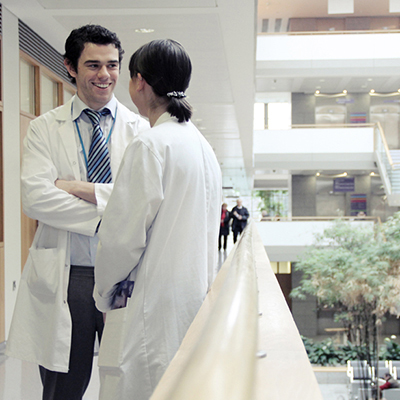 Undergraduate education
The Mater Hospital is a primary location for clinical education for the final two years of the UCD undergraduate Medicine Programme and welcomes approximately 250 undergraduate students each year for training in medical and surgical specialties.
The undergraduate curriculum in medicine and surgery modules is coordinated by the UCD Eccles Team at the Catherine McAuley Centre and includes rotations at the Mater Hospital, Cappagh National Orthopaedic Hospital, the Beacon Hospital, the Midlands Regional Hospital in Mullingar, Wexford General Hospital, St Michael's Hospital and St Columcille's Hospital.
Student facilities at the Mater Hospital were further expanded in 2014 with the opening of the UCD Mater Hospital Education and Training Centre on the 3rd floor of the historic original Mater building. This represented a significant investment by UCD in sustaining the mission of education and scholarship intrinsic to the ethos of the Mater, UCD and the Sisters of Mercy. The restoration of an in-hospital "residence" area for doctors in training has further integrated our students into the hospitals campus, culture and heritage.
---
Postgraduate education
The Postgraduate Medical Centre, located within the Catherine McAuley Centre, provides high quality, dynamic and innovative education programmes for consultants, NCHD's and the North Dublin Faculty of the Irish College of General Practitioners. The centre strives to exemplify the Mater Hospital's commitment to outstanding training for medical professionals.
The centre plays a key role in providing for the training needs of NCHD's and facilitates the professional development of consultants within the hospital and beyond by developing a programme of continuing medical education relevant to medical staff in the Mater Hospital including in house multidisciplinary meetings and with regular teaching sessions designed for Interns and SHOs as well as providing education sessions to members of the North Dublin ICGP.
All meetings overseen by the Centre of Postgraduate Medical Education are recognised and accredited by governing bodies such as RCPI, RCSI and ICGP.
The Postgraduate Medical Centre is responsible for overseeing the running of the Fintan Gunne Lecture Theatre which accommodates a capacity of 70 for videoconferencing/ presentation purposes. The theatre supports the hosting of major conferences such as Contemporary Issues in Hospital Practice and invited guest speakers which can also be streamed to various locations outside the hospital campus.