The Mater Hospital is a university teaching hospital. Every year we provide teaching and clinical training to hundreds of healthcare students and we support and encourage research activity in the hospital. As a patient of the Mater Hospital you may be asked about working with students or participating in research. This page provides you with information on what this means for you.
---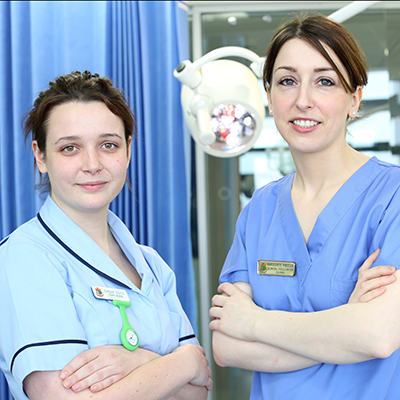 How students may be involved in your care
Nursing internship
In their final year of study, nursing students work full time as part of the hospital nursing team. These student nurses play an important role at the Mater Hospital and provide valuable care to our patients. This is always under close supervision from our own nursing staff.
Other clinical placements
Every year, hundreds of student clinicians carry out their clinical placements here at the Mater Hospital. This includes students in nursing and medicine (prior to their internships), physiotherapy, speech and language therapy, radiography, pharmacy and many other areas. The students may be observing our staff members working with patients or, where they have sufficient experience, they may deliver care to patients under supervision from Mater Hospital staff. We will ask you if you are happy for these students to be involved in delivering your care and you are entitled to say yes or no.
Case studies and teaching cases
Sometimes our staff or students produce case studies for an exam or for teaching purposes. They may wish to present the case within the hospital, at a university or at a conference. The staff member or student must ask your permission before doing this. They will tell you what information they would like to present - for example if it will include anonymised case details and/or any recordings or images. They will also explain how they will protect your confidentiality. They must then ask for your written consent before proceeding. If you would rather not participate, it is ok to say no. This will not affect your treatment in any way.
---
Participating in research
The Mater Hospital is committed to carrying out pioneering research to find treatments and cures for some of the most complex illnesses, for the benefit of our own patients and patients worldwide.
How we protect your safety
All medical research we carry out must obey ethical standards that respect people. To ensure this, the hospital's research ethics committee must approve every research study or clinical trial before it can begin. 
We will explain the study to you clearly and will give you a detailed written information leaflet. We will give you time to consider this information. If you decide to participate in the study, we will then ask you for your written consent.
What is a clinical trial?
A clinical trial is a particular type of research study that tracks and records the effects of a drug or medicine or other treatment. This research must be carried out in compliance with strict guidelines and rules. For more information on participating in clinical trials, see our Clinical Trials Research Unit page.
The benefits of taking part
Research helps us understand the causes of diseases and find better ways to prevent, diagnose and treat them. Patients who take part in clinical research help to improve the health of millions of people. 
Advantages of taking part in research
You may gain access to a new research treatment before it is widely available
You may help others by contributing to medical research
You can play an active role in your own healthcare
Choosing not to take part in research
You have the right to say no and this will not affect your treatment in any way. If you do decide to take part, you are free to withdraw from the research at any time and you do not have to give a reason for doing so.