Physiotherapists are experts in human activity and movement. Physiotherapy aims to restore movement and function when someone is affected by an injury, illness or disability.
---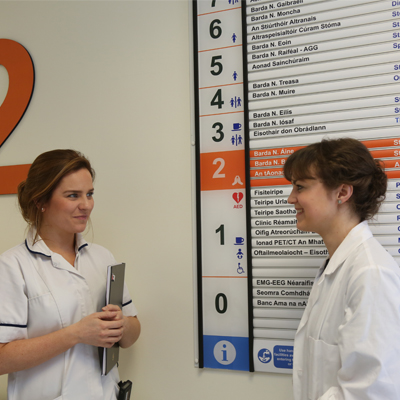 Physiotherapists are key team members in a range of Mater Hospital services. These services including musculoskeletal, cardiorespiratory, rehabilitation, neurology, stroke, care of the elderly, general acute rehabilitation and acute medicine. 
We provide both inpatient and outpatient physiotherapy services. All patients are individually assessed and therapy is provided on a one-to-one basis, in a class setting or in joint sessions with other disciplines.
---
Musculoskeletal service
Inpatients
The inpatient musculoskeletal service includes the orthopaedic trauma and the acute spinal services. We provide inpatient treatment and rehabilitation for you after you have had orthopaedic and acute spinal surgeries.
Outpatients
We offer individual outpatient treatment for patients with injuries or disorders involving the joints and soft tissues, such as fractures, spinal injuries, arthritis, back and neck pain and sports and hand injuries.
Other outpatient services include:
Musculoskeletal triage 
Pain management programme
Lymphoedema programme
Pelvic floor rehabilitation, including continence promotion/intervention 
Some of the physiotherapy classes we run include:
"Knee in Motion", a twice-weekly exercise education classes run over four weeks for people with osteoarthritis of the knee
"Back in Motion", a weekly exercise class for patients with chronic low back pain
A class for people with ankylosing spondylitis 
We also provide assessment and treatment at Mater Smithfield Rapid Injury Clinic. 
---
Cardiorespiratory service
Inpatients
The cardiorespiratory team works with inpatients throughout the hospital, including in the Emergency Department, the medical and surgical wards, cardiothoracics, transplants and critical care.
We will assess your condition and come up with a treatment plan for you. Your plan may include chest clearance techniques, progressive exercise and controlled mobilisation. These methods help prevent and treat many of the complications associated with respiratory conditions and surgical procedures. 
The cardiorespiratory service is provided seven days a week. If you have a respiratory problem that requires urgent attention, you can be referred to the service for emergency assessment and treatment. 
Pulmonary rehabilitation 
Pulmonary rehabilitation is a programme of education and exercise that helps you to manage your breathing problem, increase your energy (stamina) and decrease your breathlessness. It runs twice weekly for eight weeks.
---
Rehabilitation service
Inpatients
The rehabilitation service helps patients with a variety of conditions that may cause decreased mobility and decreased independence. It links in with services including care of the elderly, neurology, stroke, general acute rehabilitation, amputee rehabilitation and acute medicine. 
Our goal is to get you back to your best possible physical function with therapeutic exercise and mobility programmes. All patients are individually assessed and therapy is provided on a one-to-one basis, in a class setting or in joint sessions with other disciplines.
Early supported discharge (ESD) for stroke
The ESD service allows patients who have had a stroke get an early and safe discharge from hospital. You then continue with your assessment and rehabilitation in your own home, with the help of the ESD team of specialists. Our physiotherapists are part of this ESD team. For more information on ESD, please see our early supported discharge for stroke page.
Education
The Physiotherapy Department facilitates the education of undergraduate and postgraduate physiotherapy students from University College Dublin (UCD).
---
Related services
---
Referral Information
You must be under the care of a Mater Hospital consultant to attend the relevant physiotherapy service and you must be referred by a member of that medical team. 
Your appointment
Outpatients will receive an appointment directly from the Physiotherapy Department.  If you can't make your appointment for any reason, please contact the Physiotherapy Department as soon as possible. This will allow us to offer the appointment to another patient on our waiting list.