Renal Medicine, also known as Nephrology, is a branch of medicine that deals with disorders and diseases of the kidney. Our department is staffed by a team of doctors, nurses and dieticians, providing a specialist service for our patients.
---
The conditions we treat

We diagnose and treat patients with many different kidney conditions including:
Acute kidney failure (also known as acute kidney injury or AKI)
Chronic kidney disease (also known as CKD)
Kidney failure requiring renal replacement therapy either as dialysis or a kidney transplant
High blood pressure that is unexplained or difficult to treat
Protein and / or blood in urine
Electrolyte problems (e.g. abnormal sodium, calcium and potassium levels)
Recurrent kidney stones where we investigate the cause and help prevent further kidney stones
---
The services we provide
General renal medicine (nephrology) outpatient clinics
Each of our consultants has a weekly general outpatient clinic where they see new and returning patients. Our consultant's outpatient clinic locations are listed below for you:
Prof. O'Meara - Clinic number 2, Level 1, Whitty Building.
Dr Redahan - Clinic number 2, Level 1, Whitty Building.
Dr. Sadlier - Clinic Number 7, Level 1, Whitty Building.
Inpatient and consult service
We provide care to patients admitted to hospital under the Renal Medicine consultants with dedicated renal beds on St. John's Ward. We also have a daily consult service providing renal advice and dialysis for other teams and patients throughout the hospital.
​Home dialysis (and satellite) therapies
We provide:
- Education and training for our patients starting peritoneal dialysis
- Outpatient follow-up and review of all peritoneal dialysis patients
- Support for peritoneal dialysis patients admitted to hospital
- A review clinic for satellite and home haemodialysis patients
 
We provide scheduled infusions of iron, electrolyte and immune suppression to patients. Our infusion service is located in Clinic number 1, Level 1, Whitty Building.
Low clearance and post-transplant review clinics
You will be asked to attend the low clearance clinic if your kidney function has deteriorated and you need advice about dialysis or transplantation. We also treat the complications of kidney disease in the clinic, such as anaemia. You will see a doctor or a nephrology clinical nurse specialist. We also review and follow-up post kidney transplant patients and carry out urgent reviews of patients known to renal services. These clinics are located the Renal Day Unit, Eccles Street.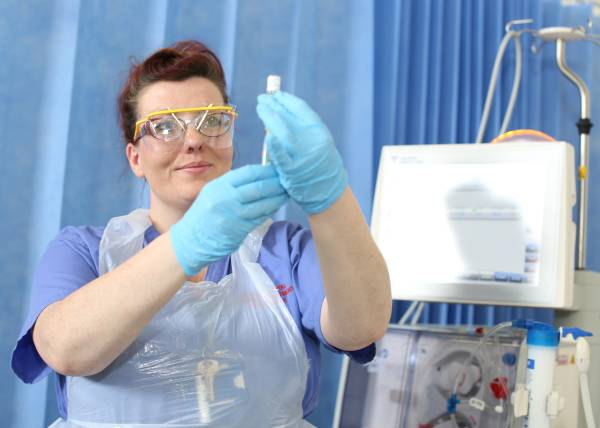 We provide:
- Chronic out-patient dialysis
- An isolation unit
- Support for dialysis patients in satellite centres at
The Beacon in Sandyford and Drogheda, and Fresenius Northern Cross.
- Dialysis for inpatients including an acute dialysis service for the hospital
The Haemodialysis Unit is located on Level 2, in the Misericordiae Wing.
---
Coming in for your appointment
You will be sent a letter a letter from the hospital that includes an appointment date. If available, you will also be sent a reminder of your clinic appointment by text message 1-2 days before your appointment.
 
You may be asked to have blood tests done in the week before your appointment.
Blood test appointments can be arranged online here or by telephone on (01) 291 0181.
 
Please bring a list of all medications that you are taking at the moment to your appointment. Remember to include medicines that you get with a prescription and also over-the-counter medicines that you buy in the chemist or supermarket.
 
If you have other medical information (e.g. scan results or recent blood test results) that is relevant to your appointment, please bring those with you too.
 
When you attend one of our clinics you will have your blood pressure checked and you may be asked to provide a urine sample. You will then be seen by one of our doctors.
 
If you are unable to attend your appointment, please contact your consultant's secretary to let them know, as this will allow another patient to use the appointment instead. You will be offered a different appointment date.
---
---
Referrals

Referrals can be sent to the department directly by referral letter or via Healthlink. We triage all referrals promptly and offer appointments to patients to be seen in order of both clinical priority and date of referral.
Information for doctors is available on our GP and hospital referral page.
---
Research and Education
The Department of Renal Medicine in the Mater Hospital has a long tradition in education and is dedicated to both undergraduate and postgraduate teaching and education.
We have strong links with University College Dublin (UCD) Medical School with medical students frequently moving through our department and we continue to work with UCD in the area of kidney disease research.

Additionally, we support basic and higher specialist training of doctors through clinical practice and continuing education with weekly medical grand rounds, journal club and other teaching, research and audit opportunities. 
There are opportunities for renal nurses to participate in the Postgraduate Diploma in Renal Specialist Nursing in association with Trinity College Dublin.
---
---
Our consultants