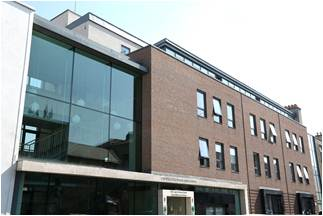 Through the Centre of Nurse Education (CNE) and clinical placements on the Mater Hospital campus, we provide a wealth of clinical expertise and rich clinical learning opportunities for nurses. through our close partnership with UCD and DCU we provide a variety of postgraduate and undergraduate nursing programmes. Our central location on the hospital campus helps to ensure that our courses reflect and respond to current patient and service needs.
The CNE is a purpose built building with a central focus on the provision of continuous professional nursing education, specialist nurse education, in-service days and professional education courses for registered general nurses and other health care professionals. A brief introduction to and overview of our courses is provided below for you.
---
Undergraduate education
Each year, the Mater Hospital provides clinical learning placements to BSc undergraduate nursing students from University College Dublin (UCD) and Dublin City University (DCU). Students from the BSc General and BSc Children's and General Nursing courses complete the majority of their clinical learning placement/s here at the hospital. We also facilitate international nursing students as part of an exchange programme (Erasmus programme).
Postgraduate nursing education
At the Mater Hospital, we offer many specialist postgraduate programmes to our nursing staff,  in partnership with UCD. Please select any of the below to view more details on available programmes, modules and courses.
Specialist postgraduate programmes (one year)
We offer many specialist postgraduate programmes facilitated by our specialist experts and run in partnership with UCD. These programmes are 1 year in duration. For information on these programmes, please click on any of the below links: 
Graduate Diploma Critical care Nursing: Cardiovascular Nursing 
Graduate Diploma in Cancer Nursing 
Graduate Diploma in Critical care Nursing: Intensive Care 
Graduate Diploma Peri-operative Nursing 
Graduate Diploma Emergency Nursing (Adult) 
Graduate Diploma Diabetes Care 
Graduate Diploma Pain Management 
We offer our nursing staff a suite of specialist continuing professional development modules. These modules are six months in duration and are connected to the above listed postgraduate programmes. The following modules are available: 
Introduction to Cardiovascular Nursing
Intensive Care Course
Diabetes Nursing
Gastrointestinal (GI) Endoscopy Nursing
Cardiothoracic and transplantation Nursing
Oncology & Haemotology Nursing
Peri-operative Nursing programme
Nursing the Acute Medical patient
Care of the Older Person
Spinal/Spinal Cord Injury Nursing
Developing Acute Pain Champions
Evidence Based practice and Research Champions
Introduction to Emergency Nursing
Haemotology Nursing
Interventional Radiology
The following classes and short courses are available:
Nursing Induction Programme
Clinical Skills Workshop using SiMMan
Mandatory Training Study day
COMPASS Programme
Managing Sepsis Workshop
Venepuncture & Cannulation
Non-Invasive ventilation Workshop
Preceptorship- Student Support & supervision
Enhancing and enabling well-being for the person with Dementia (2 days)
Responsive behaviours Workshop: Supporting and Understanding the Person with Dementia
Enabling and Enhancing Quality of care with the person with Dementia Acute Care Programme
Leading in Uncertain Times
Insertion of Fine Bore feeding tubes
Supplemental nutrition and Hydration workshop
Cancer Nursing education Programme for Registered Nurses working in the inpatient setting (NCCP)
Final Journeys Programme: Developing Awareness in End of Life Care
Dealing with Bad News: Communicating Difficult News
Continence promotion Workshop
Wound management Seminar
Presentation Skills
Poster design using Microsoft Powerpoint
Professional Portfolio Workshop
Healthcare Assistants
The following professional development programmes are available for healthcare assistants:
Health Service Skills Award (Level 5)
Activities of Living Patient Care Module
Measurement and recording of vital signs using NEWS
Other available courses
Clinical Adaptation and Assessment (Pre-registration) programme: six week programme for nurses educated overseas in a non-EU country.
Transition to Acute Care Nursing: six week programme for qualified nurses transitioning to the acute sector.
Return to Nursing Practice programme: six week programme incorporating two weeks of theory and four weeks of clinical placement.